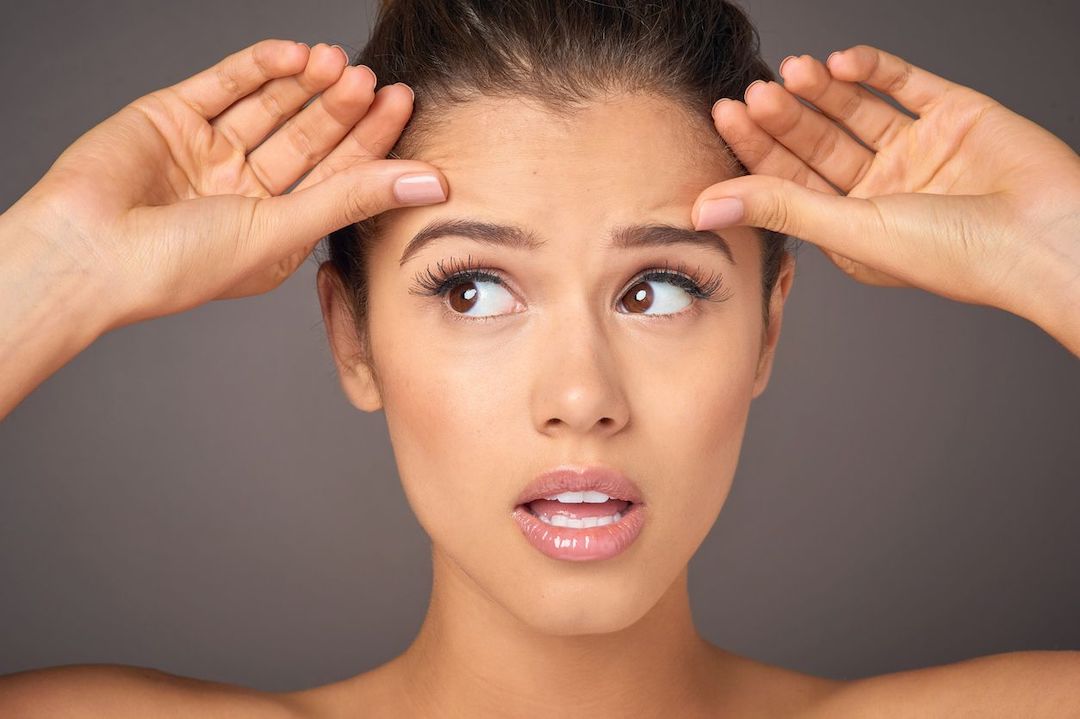 BOTOX Cosmetic is proven to temporarily smooth wrinkles.
BOTOX is an FDA Approved Cosmetic Injection used cosmetically to remove wrinkles by temporarily paralyzing muscles.
HOW BOTOX® COSMETIC WORKS
As we age our skin loses collagen, combine that with today's environmental stressors or damage caused by free radicals from the sun and you've got a recipe for facial lines.
Also when we repeatedly contract our muscles by frowning, squinting, or raising eyebrows it causes the skin to furrow/fold. This also results in the formation of facial lines. BOTOX® Cosmetic works beneath the surface to temporarily paralyze the muscle activity that causes these lines, such as crow's feet and forehead lines. It helps them look visibly smoother.
Are you a candidate for BOTOX?
This muscle-relaxing treatment is best used for moderate to severe wrinkles. Including crow's feet and other "expression lines." These are the lines that form from squinting, laughing, frowning, smoking and worrying. As these lines deepen over time they make you look older, angry, tired or stressed. A Botox treatment can help eliminate these resulting in a younger more youthful looking appearance.
What to expect and how long does it take?
BOTOX is a safe, effective treatment that takes less than fifteen minutes to complete. BOTOX is injected into the specific muscle that is contracting and causing wrinkles. The injection simply causes the treated muscles to relax.  Resulting in unwrinkled and smooth skin about ten days post-treatment. The effects of a single BOTOX treatment will last around 3-6 months.
Will My Face Look Overdone or Unnatural?
BOTOX® Cosmetic is a technique-sensitive treatment. You can trust our Physician Assistants and their years of experience to deliver subtle results. So you'll look like yourself, only with less noticeable lines, and who doesn't want to look refreshed. No one will be able to tell you've had anything done. And we won't tell unless you do.
How Many Injections Will I Receive?
Treatment with BOTOX® Cosmetic is customized for each individual client's needs. When you come in for a consultation or treatment our Physician Assistants will determine the appropriate treatment for you areas of concern.
General Treatment Guidelines:
For the crow's feet area:
3 areas of the muscle that frames the side of the eye. This will be repeated on the muscle that frames the other eye.
For the frown lines area:
5 injections into the muscles between your brows and in your forehead.
For the forehead lines area:
5 injections into a muscle in your forehead.
A Product Backed by Advanced Research
The FDA has stated that BOTOX® Cosmetic is "non-interchangeable"? That means its safety and effectiveness cannot be claimed by duplicate. The strength of BOTOX® Cosmetic is measured in scientifically defined units that no other product can offer. 
Only BOTOX® Cosmetic is backed by over sixteen years of medical studies. BOTOX® Cosmetic uses a unique manufacturing technique, that measures its potency in units. Incomparable to any other product on the market. There is no such thing as "generic" BOTOX® Cosmetic. At Revitalize Medical Spa we pride ourselves on only administering BOTOX® Cosmetic.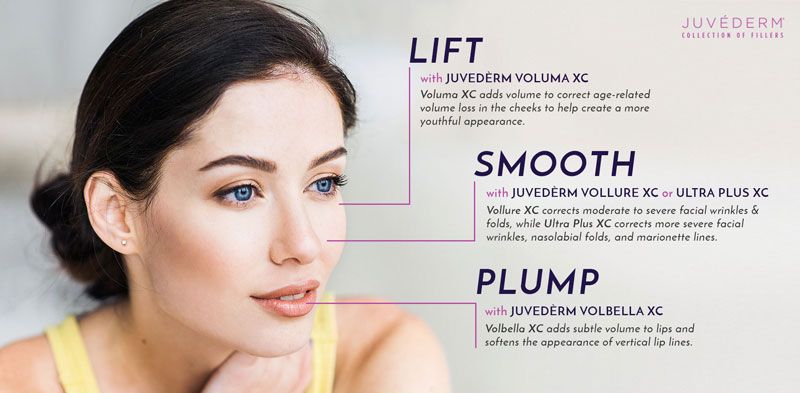 We are proud to offer JUVÉDERM. The #1 selling collection of hyaluronic acid filler in the US.
What is Hyaluronic Acid?
Hyaluronic Acid is powerful stuff. Don't let the word "acid" fool you. It's a gel-like water-holding molecule that helps keep skin plump and hydrated.
Each product in the JUVÉDERM collection of filler adds volume to a different area of the face. Resulting in lifted cheeks, smooth lines, or plump lips. The results are subtle and long-lasting.
JUVÉDERM® VOLLURE XC
is used to plump the skin and correct moderate to severe facial wrinkles. It lasts up to 18 months, which is longer than any other JUVÉDERM® product, and tends to have less pain during injection and reduced swelling.
JUVÉDERM® VOLBELLA XC
is an FDA-approved dermal filler designed specifically for the lips and surrounding area. The filler consists of a gel that fills in lip lines and wrinkles. While the hyaluronic acid maintains moisture, results can last up to one year. Because the injection also includes a local anesthetic, treatment is much more comfortable.
JUVÉDERM® VOLUMA XC
is an injectable gel that is administered deep into the cheek area.  It adds volume beneath the skin's surface, providing a lift and creating a more youthful contour. Patients report looking up to 5 years younger with a single treatment! This treatment is proven to last up to 2 years.
JUVÉDERM® ULTRA XC
is an injectable gel is designed for lip augmentation. It provides a natural-looking plumpness to the lips and reduces the appearance of vertical lip lines. Lips treated with this filler look full, beautiful, and natural. 79% of patients showed a significant improvement in lip fullness. Additionally, more than 78% of patients reported loving the look and feel of their lips at one year after treatment. And the best part, results last up to a year!
JUVÉDERM® ULTRA PLUS XC
is a more dense form of the cosmetic injection, and it's administered very deep into the skin. It's a little thicker and stronger than JUVÉDERM® Ultra XC, and can be used in the perioral region as well as other areas. The location and severity of wrinkles and folds may require JUVÉDERM® Ultra Plus XC to achieve the results you're looking for. JUVÉDERM® Ultra Plus XC is best for significant lip enhancement, deeper wrinkles, naso-labial folds, areas with greater volume loss, and facial shaping.
Does it hurt?
JUVÉDERM injectable gels labeled with "XC" contain pain-reducing lidocaine to help manage pain or discomfort during the injection. You may also ask your aesthetic healthcare provider about a topical numbing cream or ice to help further minimize discomfort.
When will I see results?
You will see results immediately/instantly.
STILL NOT SURE WHICH PRODUCT IS BEST FOR YOU?
We can help with that, too! Prices vary depending on the treatment area. Call or Book Online TODAY! FREE Consultations Available!
Kybella
Kybella treats submental fullness (also known as the "Double Chin")
by assisting in breaking down and absorbing fat.
Book your free consultation today to learn more.