A CO2 LASER TREATMENT JUST BECAME A LOT COOLER. INTRODUCING COOLPEEL ®
● Reduce fine lines
● Minimize sun damage and pore size
● Improve skin texture
● Without any real downtime
We are thrilled to be amongst the first to offer CoolPeel laser treatments! CoolPeel is an innovative way to safely, and comfortably, deliver the benefits of a traditional CO2 resurfacing treatment. By targeting only the superficial layer of skin tissue, damaged skin is removed, revealing younger and healthier looking skin. CO2 lasers have long been the gold standard in treating wrinkles, age spots, acne scars, and other blemishes as well as tighten skin and balance tone. Traditional CO2 treatments however have long been associated with considerable downtime. The precision and the control of the CoolPeel allows you to get the skin resurfacing benefits without downtime and risk.
If you are looking to reveal healthier skin, schedule your Coolpeel treatment today.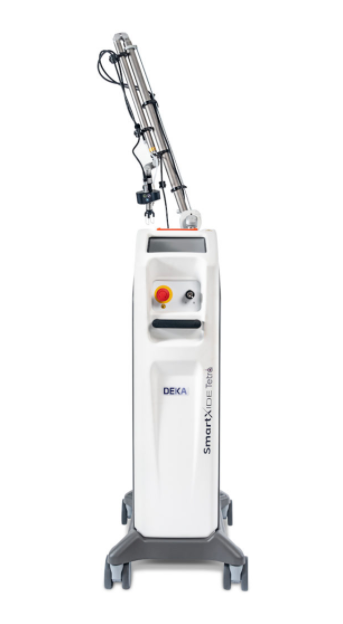 LASER HAIR REMOVAL
Using ELITE +
Discover how the Elite+ laser delivers long-term, reliable, and cost-effective results. With Cynosure's leading laser hair removal treatments using the Elite+ At Revitalize Medical Spa in South Tulsa, you can have the smooth, touchable skin you've always wanted.
Hair removal made easier:
Shaving, plucking, tweezing, waxing, styressing… all are temporary fixes for that pesky, unwanted hair. With our laser hair removal treatments, you can quickly and easily reduce unwanted hair on your body or face with longer-lasting results.
How it works
The secret lies in the technology. Cynosure's laser hair removal treatments target and destroy the hair cells responsible for hair growth without damaging the surrounding skin. The result is smooth, hair-free skin that lasts!
FAQs
What areas can be treated?
Treatment areas include face, underarms, arms, legs, back, bikini, chest, and more!
Does laser hair removal hurt?
Treatments are virtually painless and will vary patient to patient. Patients describe a range of sensations during treatment from tingling to the snapping of a rubber band.
How long are the treatments?
Treatments can take from just 5-60 minutes depending on the size of the area being treated.
How many treatments are needed?
A series of 3-6 treatments is recommended for optimal results but, every patient is different. Work with your provider to develop a plan that is right for you!
Why are multiple treatments needed?
Our hair naturally grows in 3 different stages. All our hair is not in the same stage at the same time, so when an area is treated only a percentage of hair follicles will be affected. Therefore, to effectively reduce your unwanted hair, multiple treatments are necessary.
Is laser hair removal right for me?
This treatment is safe for all skin types, including light and dark skin and most hair colors. Schedule your free consultation with Revitalize Medical Spa to determine best treatment options for you!
What type of results can I expect?
You can expect to see a gradual decrease in the hair thickness and in the amount of hair present. In addition, you may also see a decrease in stubble, rashes and ingrown hairs!
BROWN AND RED SPOT REMOVAL
Get back to the beautiful skin that you're comfortable in. Many patients are living with Sun damage and age spots. These undesirable skin conditions can be caused by many different factors such as sun exposure and every day aging. Luckily there's a solution to these unwanted blemishes! With our laser treatments using Cynosure's innovative Elite+ machine, you can finally get rid of unwanted spots and return to your beautiful, radiant skin in no time. These treatments are quick and boast long lasting results. 
SPIDER VEIN REMOVAL
Do you also find yourself stressing over those unsightly spider veins and broken blood vessels? Revitalize Tulsa also provides our patients with vein treatments that are dedicated to helping people regain their confidence and reveal their beautiful, rejuvenated selves.